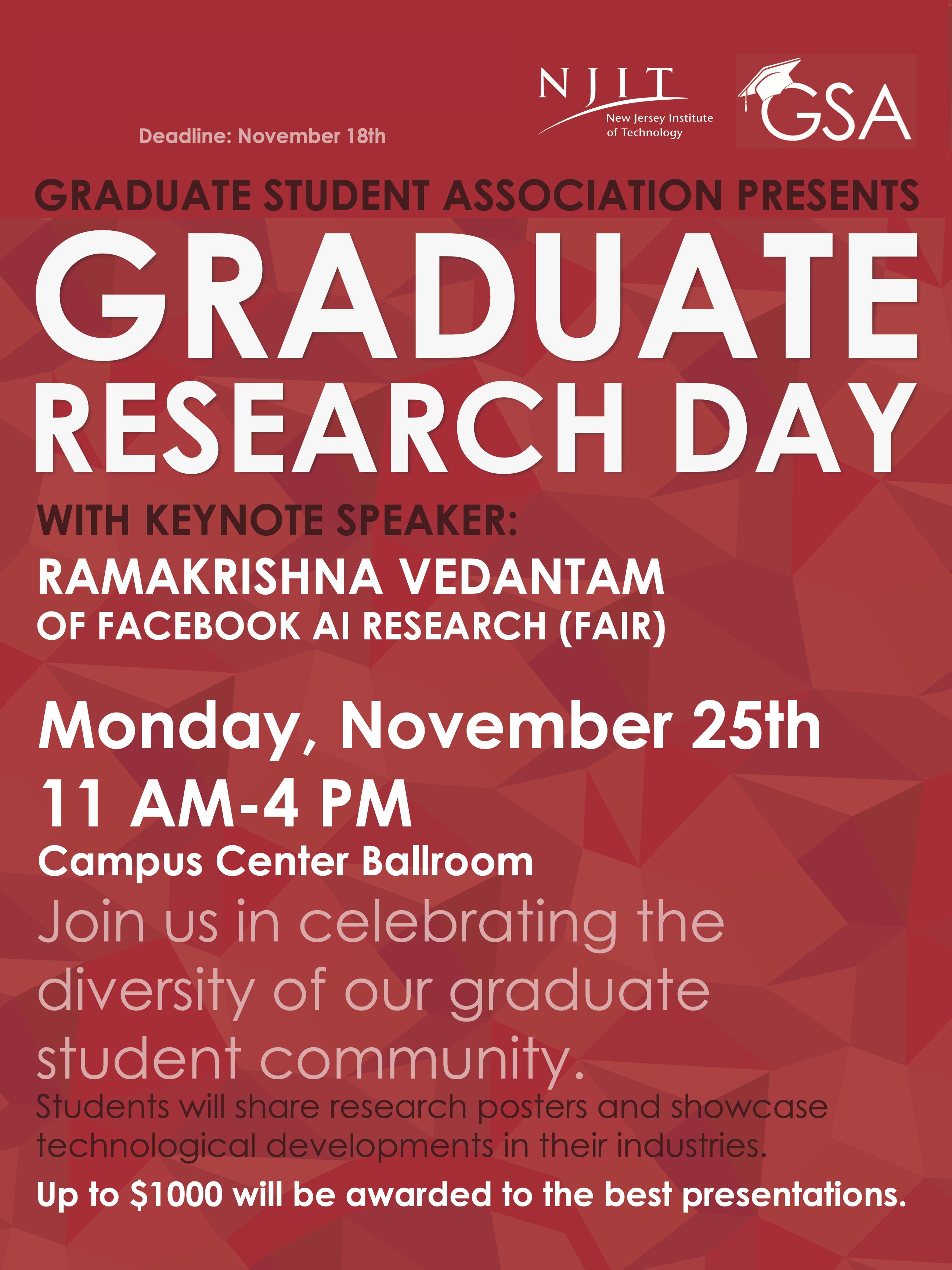 Winners
Acknowledgements
Thank you to all the faculty, organizers, and volunteers that made Graduate Research Day possible.
Faculty Judges:
Dr. Ashish Borgaonkar
Dr. James Haorah
Dr. Jonathan Grasman
Dr. Horacio G. Rotstein
Dr. Ismet Esra Buyuktahtakin-Toy Dr. Wen Zhang
Dr. Bruno Goncalves da Silva Dr. Kristen Severi
Dr. Janice Daniel
Dr. Aritra Dasgupta
Dr. Pier Alexandre Champagne Dr. Farnaz A. Shakib
Dr. Durga Misra
Organizers and Volunteers:
Sathyanarayanan Somasunder Emily Rose Gutierrez
Ludvik Alkhoury
Athira suresh kumar Nair
Jun Yuan
Siddhant meghraj Bhasarkar Lee Zhang
Suchandra Das
Aswati Aravind
Ajim Uddin
Pengyi Zhao
Alina Emelianova
Vivek Senapati
Harsh Uday Dodia
Womesh Dilip Bhole Brandon Behring
Omar Itani
Message from the University President
Graduate Student Association and NJIT Graduate Student Research Day Participants,
Research is an integral component of graduate study at NJIT, and I congratulate the Graduate Student Association for organizing an event that once again showcases the talents and initiative of young men and women who are advancing knowledge across a wide range of frontiers as they work toward their degrees.
NJIT now is recognized as one of the premier research universities in the United States. This year, we attained R1 status in the Carnegie Classification, which is the highest possible rating for research productivity. There are only 131 universities in the nation to be given an R1 rating, and only three in New Jersey—NJIT, Princeton, and Rutgers. NJIT achieved this distinction by growing its research enterprise to nearly $170 million per year, and by attracting both dynamic faculty members and talented graduate students who work collaboratively to advance knowledge. During the last six years, NJIT has attracted approximately 130 new faculty members to campus, opening new lines of research activity to be joined by our students.
At a university such as NJIT, research is both a key aspect of a rigorous educational program and a partnership between students and faculty in the quest for knowledge that has the potential to improve the quality of instruction in the classroom and the quality of life for people everywhere. The results achieved by the students sharing in this partnership are all the more impressive for having been judged by the same standards applied to the professional efforts of their teachers and mentors. I wish every participant in this year's Graduate Student Research Day continued success in the future. You have demonstrated an exceptional degree of intellectual curiosity, creativity and commitment to positive change through science and technology.
Sincerely,
Joel S. Bloom President
Message from the University Provost
I thank the NJIT Graduate Student Association for their continued commitment to Research Day, and I express my personal appreciation for their efforts in organizing this important event.
NJIT graduate students have the opportunity to collaborate with faculty who are conducting innovative research. This research is built around multidisciplinary efforts that encourage partnerships among disciplines and with other educational institutions, private enterprise, and government agencies.
Research Day, an annual NJIT tradition, is growing in strength year by year because of an increasing awareness of the importance of the opportunity it provides to students. The event promotes and encourages research at NJIT while simultaneously providing a platform for students at all levels of experience to practice the crucial art of communication. It is a showcase for their efforts, and we are proud of their accomplishments.
For each student, whatever your career plans beyond graduation, you will surely find yourself describing your results, advocating for your plans, and explaining your decisions in a world where collaboration and communication grow ever more important. This Fourteenth Annual Graduate Research Day will provide you with the perfect environment to improve your skills with an encouraging and receptive audience in a friendly setting. So, seize the opportunity, enjoy it, and learn from it.
Sincerely,
Fadi P. Deek
Provost and Senior Executive Vice President
Message from the Senior Vice Provost for Research
Congratulations to all graduate students, and their advisors on presenting excellent research work at the NJIT Graduate Research Day.
NJIT with its Vision 2020 strategic plan is committed to providea world-class academicand research experience to students working under the supervision of leading faculty through research labs and centers. The Vision 2020 plan focuses its mission on educating future leaders and advancing research with the five strategic priorities onthe development of students, the transformation of the curriculum, the growth of scholarly research, the fostering of a global community, and the investments in human, physical, and technological resources.
Research is an integral part of academia and learning experience for students in pursuit of knowledge discovery and taking prominent roles in the society. The Graduate Research Day showcases the breadth and depth of NJIT research enterprise with exciting projects. These projects address important research problems and societal needs with technology solutions of high potential impact.
NJIT research enterprise has evolved with more than 110 research institutes, centers and specialized laboratories in four strategic research areas to advance multidisciplinary research and their translation to real applications: Life Sciences and Engineering, Sustainable Systems, Data Science and Information Technology, and Transdisciplinary Areas. The multidisciplinary research synergy is poised towards future technology growth to transform our lives but also make a significant impact in the regional and national economical development.
We are proud of the accomplishments of our students and faculty and their commitment to take leadership roles in the global community. Your achievements significantly contribute to the success of Vision 2020 plan towards further enhancement of the NJIT research enterprise.
Congratulations again and best wishes for your future endeavors.
Atam P. Dhawan, Ph.D.
Senior Vice Provost for Research
Distinguished Professor
Message from the Vice Provost for Graduate Studies
These are great times for NJIT's graduate students. The number of currently enrolled Ph.D. students is the highest ever in our university's history. NJIT recently earned its place among the 131 institutions holding the R1 (Doctoral Universities: Very High Research Activity) designation of the Carnegie Classification, the highest designation for a doctoral university. Starting this semester, the Graduate Studies Office organizes professional development events to help our Ph.D. students succeed; these events focus on such topics as diversity in the workplace, increasing research productivity, improving communication skills, pursuing rewarding careers, preparing applications for national fellowships, interviewing early to assume jobs just after graduation, and thriving as a Ph.D. student in spite of stress.
The STEM disciplines have experienced major advances since the late 1800's but progress has been unprecedented since the inventions of electronic computers more than 70 years ago and the internet for the masses about 30 years ago. Emerging technological advances now monopolize our daily news. How has our world changed so fast? Some of us still remember the late 1980's and early 1990's when we used to do supercomputing research as graduate students or faculty members. Multi-million dollar digital computer platforms of that time are now surpassed in computing power by our smart phones! Several research topics that have been around for dozens of years, such as AI (Artificial Intelligence), have now seen the light of day not only due to theoretical advances in AI but also because of the emergence of cost-effective powerful computing platforms. The recent history of information technologies could not have been different since the transistor count (i.e., number of transistors on an integrated circuit) of digital computing devices has increased from 1,200,000 in early 1990 (Motorola 68040 CPU) to thirty-seven billion in 2019 (Xilinx Versal FPGA). Breakthrough advances are taking place in such areas as smart cities, the Internet-of-Things (IoT), robotics, 3-D metal printing, space exploration, AI assistants, blockchain technology, cell and gene therapy, and new materials that could one day lead to commercial quantum computers.
Technological advances spread as viruses, in a good sense. They have transformed portable devices that were dedicated to the task of making phone calls (i.e., conventional cell phones) into mighty hand-held computers that also facilitate phone calls (i.e., smart phones). Also, automobiles that routinely contain at least a hundred embedded computers are being transformed into "intelligent automobiles" that will be able to exchange information while also "sensing and interpreting" their immediate environment in order to drive themselves safely to their destination.
NJIT's graduate students participate in advanced research in STEM as well as in urban studies and planning. NJIT offers a fertile ground for our graduate students to pursue research innovations in disciplines of importance to our nation and the world. Maintaining such a prolific environment for graduate student success is at the core of NJIT's mission. By receiving a solid education that integrates research in NJIT's diverse and highly competitive ecosystem, our graduates eventually become NJIT's distinguished ambassadors to the world.
Among the events organized by the GSA, the Annual Research Day stands out as the day of pride for graduate students who are highly motivated to contribute to advances in our ever-changing world. Confident that this will be a great day for students pursuing research endeavours in their graduate studies, I would like to wholeheartedly thank the GSA E-Board and all graduate student volunteers for their passionate work that has led to this well-anticipated event.
Sincerely,
Sotirios G. Ziavras
Message from the Dean of the Newark College of Engineering
I write to congratulate you and the NJIT Graduate Student Association on 2019 Research Day, and to share some thoughts about the way our R&D efforts are supported. The significance of research in the training of graduate students requires no introduction – graduate studies are about research. Yet, it is useful to remember that the current scope of research activities (and the size of the graduate student body in the United States and elsewhere) are unprecedented. As one example, during the pe- riod 2000-17 the number of U.S. doctorates conferred annually increased from around 45,000 to 71,000 (a 57% increase). The number of U.S. Science and Engineering doctorates increased from around 28,000 to 46,000 (a 64% increase). These are very significant numbers, and a rate of growth that poses significant challenge for the U.S. R&D enterprise in the next 20 years.
Another way to look at academic R&D is to follow the money. In 2016 expenditures on academic R&D in the United States were $68.4 billion, of which the federal government funded 39 billion (57%) and the insti- tutions themselves about $18 billion (26%). The rest was funded by nonprofit organizations ($4.4 billion, 6.4%), businesses ($4.2 billion, 6.1%) and state and local government ($4 billion, 5.8%),. The bottom line is that more than 90% of academic R&D was paid – directly or indirectly – by the general public.
How does funding and doctoral-student numbers correlate? From 2007 to 2016 higher education R&D expenditures in the United States have risen by 39% while the number of doctoral degrees awarded during the same period grew by only 15%. The number of Science and Education doctoral degrees grew at an even smaller rate, just 9.4%. Even when the expenditures are adjusted for inflation, higher education R&D expenses outpaced the number of doctoral degrees awarded. This phenomenon tells us what we should have known beforehand – that the costs of academic R&D, which include salaries of mentors and professors, equipment, research facilities and operating costs, are growing fast. So far the public – which funds about 90% of these expenses as we have seen – was willing to pay these escalating costs, but for how much longer and at what pace is an open question. We can all cite the success stories resulting from public funding of R&D at universities – the new effective drugs that were developed based on university research; new devices and techniques for communication, transpor- tation, environmental protection, medical diagnostics, pharmaceutics, and medical care; new, more efficient methods for manufacturing and logistics; strengthening of the public infrastructure. We use these success stories to justify what we do and to motivate ourselves.
Yet, there is also much skepticism by the public that funds us about the value of academic R&D. Signs of this skepticism include massive cuts to science and medicine research in the 2018 U.S. budget proposed by the U.S. President. Among other important R&D organizations, this budget draft decimated the National Insti- tutes of Health and the Environmental Protection Agency. While the proposed cuts were eventually reversed by Congress, the fact that they were suggested in the first place is a bad sign – we may see more of the tendency to cut science and engineering funding by public representatives, especially if the U.S. economy – that had been in a moderate to good course in the last few years – changes direction.
Between 1975 and 1988 U.S. Senator William Proxmire gave out the so-called "Golden Fleece Awards." These were tongue-in-cheek "awards" presented to public officials in the United States for their squandering of public money. Unfortunately, many of these "awards" were given to university researchers for their projects and studies. In most cases, the reason for the dubious honor was either that the Senator and his colleagues did not understand what the research was about, or that the research was unsuccessful. We all know that unsuccessful research is part of our enterprise. When you start a new research effort you are taking a risk that your hypoth- eses and expectations will falter. We know that out of the thousands of new research efforts funded by the U.S. government every year, some will fail, and that this is both expected and normal. The public quite often does not understand that.
The "Golden Fleece Award" was blessedly retired by now, but its legacy, as well as the numbers and trends I quoted earlier should still be of concern to us, especially on Research Day. We, researchers and developers of the present and the future, should not ignore them or we may face increased skepticism and resistance by our target audience. We should understand where money for our research is coming from. We should acknowledge and express thanks to the public that funds our work (even when often the public and its representatives do not understand what we do). Most importantly, we should be capable and willing to explain to our funders and to the public what we do with their money. As much as all of us here follow our passion in our research endeavors, we owe to the people who pay for it a clear explanation – in human-understandable language – of what we do, why we do it, and what the short- or long-term benefits are likely to be. We cannot and should not just be talking to ourselves in conferences and seminars, and we should always be ready to present our work to the average member of the public. It is this average member of the public who makes our work (and all this excitement of Research Day), possible and sustainable.
With the best wishes for a successful Research Day,
Moshe Kam, Ph.D., P.E.
Professor and Dean
Message from the Graduate Student Association President
I would like to celebrate with you the 2019 GSA Annual Research Day. The Research Day is a GSA signature event, dedicated to observe the graduate student achievements in their diverse fields of research. Throughout the year, the Research Day has gained humongous popularity among the students and the faculty, who considered that event as an elevated platform to display and showcase their findings to the NJIT community.
As a Graduate Student Association, we actively work to ensure the delivery of best quality services to the graduate student body. When preparing for the Research Day, the students will not only improve their presentation and communication skills, but also enhance their professional expertise; and this what will make NJIT students unique and more competent.
What is special about this year, is that 47% of the presentations will be presented for the first time. This has added an exclusivity flavor and has evinced the tremendous trust that NJIT community has in GSA when choosing this platform to launch their precious work. Last but not least, I would like to thank the GSA E-board, the Research Day committee, and the volunteers for their outstanding contribution in organizing the Research Day. It would never have been possible without their positive energy that drove that project.
Sincerely,
Ludvik Alkhoury
Graduate Student Association President
Ph.D. Candidate,
Department of Electrical and Computer Engineering